Deep Tissue Muscle Massager
Are you suffering from arthritis? Or muscle sores from those strenuous workouts and practices? Going back and forth to a massage spas can be pretty expensive.

The good news is… you can have that relief and comfort from your body soreness and stiffness at home without opting for those pain killer pills- which by the way has some bad side effects to your health.
Massage Gun Electric Massager Vibration Massage Device
offers you a more natural remedy to your growing pains.
Did you know?
Recent studies have shown that percussive massage provided by a massage gun can cause muscle tissue to contract more than 30 times more powerfully than normal voluntary contractions. Which will surely enhance and strengthen your muscle.
Why you need this?
Relieves tight and sore muscles
Energizes and activates your body
Improves your sleep
Eliminates toxins
Increases mobility
Improve your blood circulation
Accelerates muscle recovery
Deep Soothing Massage
This massage gun offers you that level of deep muscle penetration which other massagers can't give. It can match a therapist's hands reaching out to the problem and weak areas of the body. A lot of sport teams has been using this, giving you and everyone else a better option to a pain-free life
Multiple Health Benefits
From improving your sleep pattern to releasing stress and relieving muscle pain this massage gun definitely offers more than you could imagine. It is a favorite go to of a lot of actors, dancers, athletes, hikers, and even those with medical conditions.
Replaceable Heads
This Massage Gun has six replaceable massage heads that targets and functions differently to each body parts. These massage heads can be directed towards multiple angles by just pressing the button.
Big Round Ball Head =  Entire/anybody muscles

Small Round Ball Head =  Focused body muscles

Spiral Head = Body joints

Fork Head = Spine

Gas Plug Head = Entire/anybody skeleton

Flat = Full body
These massage heads can be directed towards multiple angles by just pressing the button. Ease tension and relieve sore muscles, destress, relax and energize your whole body.
Quiet Operation
This Massage Gun won't make an unnecessary vibrating sound unlike those other available in the market, giving you that near to tranquil and relaxing atmosphere which spas offer.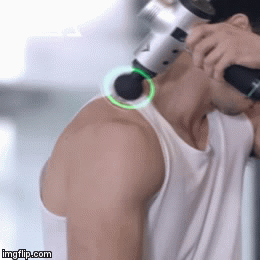 Lightweight and Easy to use
Just as you think that it could be bulky because of its power and versatility, you'll be pleasantly surprised because the Massage Gun is very compact and lightweight. Easy hand-held that you can use it on your own to relieve your muscle pain.
Whether you're an athlete, bodybuilder, blue-collar worker, or just a regular person who needs to get pampering with a relaxing massage,
this
Massage Gun Electric Massager Vibration Massage Device  
is for you, giving you the best massager option!

5 Reasons To Buy From Us.